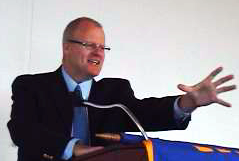 Joe Ditzel is an award-winning speaker and humorist who has performed his clean brand of humor for over 21 years at business conferences, association conventions and comedy clubs. Look for some of Ditzel's jokes in Judy Brown's "Joke Stew- Another Helping of Jokes from Today's Hottest Comedians," the follow up to her successful "Joke Soup."
Ditzel has published hundreds of humorous articles, with several appearing in national publications such as PC Journal. He also recently published a collection of humor columns. Joe is CEO of Vast Media Empire, a fast-growing multi-platform branded entertainment company incorporating humor books, animation, websites, flash games, comics, short films, music publishing and related merchandising.
You can reach Joe at [email protected].