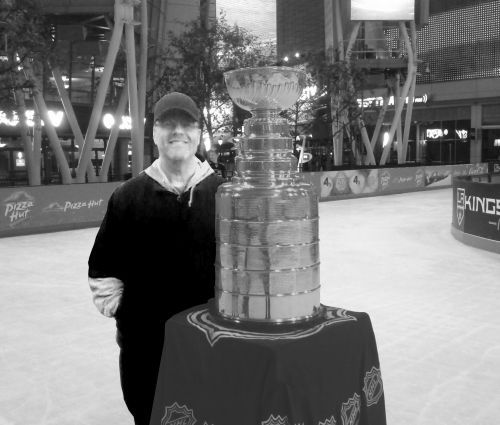 Podcast: Play in new window | Download
It was 610am in the morning and cold. OK, maybe not for you but for us 38 degrees is like an ice age.
I was walking back from downtown where I went to get some cold and flu pills. I strolled past the little ice rink they have at LA Live, a restaurant/hotel/entertainment complex across the street from Staples Center where the Kings and Lakers play.
They had taken down the big Christmas tree that stands in the middle of the rink through New Year's. Now there was Kings signage in the middle.
Hockey just came back to town after the strike and they were gearing up their marketing.
The sound of hockey sticks and skates echoed through the plaza as a group of players batted a puck around. There were some pretty girls playing as well. What's going on here?
Right in the middle of one section of ice was a raised table with…wait a minute…is that…the Stanley Cup?
As in, Lord Stanley? Won by the world champion Los Angeles Kings?
Yes, it was. I moved around to the street side to see why it was sitting on the table.
Turns out the girls were Kings cheerleaders and the players were just regular dudes. They were shooting some kind of promotional video. But there was a lull in the action. I thought, wow, there's no one out here in the cold breaking dawn except me, these dumb guys playing hockey, some very hot cheerleaders and the Stanley Cup.
I doubted I would ever get this close again.
"Hey, do you mind if I come over the boards to get a picture?" I yelled as I climbed over. It's best to ask permission for something as you are actually doing it. I also knew they wouldn't mind. Hockey is different than other sports. If this was a Lakers event there would be security everywhere. With hockey you just join in. They waved me closer.
One thing that struck me right away. The names on the cup are tiny. I know that every team that has ever won is printed on there. Well, the names are small and the older years look worn down and faded, almost rubbed off.
I asked one of the cheerleaders to take my picture. I almost asked if I could pick it up and hoist it up like I just won the series. Normally the NHL doesn't mind if fans do stuff like that. There are legendary stories of where the cup has been and what has been done to it. But the video guy had it ready to go for his shoot and he was getting impatient.
Plus, I was a uninvited guest at their party. I just stood behind it with my hands in the pockets of my golf jacket.
All those years I played hockey in Canada as a kid and my first time with the Stanley Cup is in Lost Angels.
For us it's been feeling like Canada lately, anyway.